Wow. I have been honored by Just Jenna with a nomination for the Dazzling Blogger Award.
There are rules and here they are:
Rules:
1. Thank the person who nominated you for The Dazzling Blogger Award.
2. Link back to the original blog post.
3. Answer the seven questions that they asked in their blog post.
4. Make up seven new questions.
5. Nominate seven more people for The Dazzling Blogger Award, who you think exemplifies excellent blogging skills.
So…Now time to answer some questions I guess..
What is your top favorite thing about your blog?
Since I started blogging about four years ago, I have had the honor of interviewing some great folks for the site as well as getting access to screeners for indie movies to review. It is always such a joy when I get an email asking if I want to watch someone's film, because, of course I am always game! The other thing I LOVE is the branding created by my good friend and fellow blogger @dreamforgernick this dude is a wizard.
2. Do you get burned out as a Blogger?
I have so many different articles that I write that I can switch around when one is starting to drag on me. I work a little in advance for my reviews so I have time to prep and post, so that gives me some flexibility. Thankfully, with the various subjects I write about, getting burned out is hard to do.
3. What is your favorite season?
Spring is probably my favorite as its warming up a bit but not to the point of summer. There is that really short window where the weather seems just right and you can sit outside without turning into a puddle. You see this very briefly in the fall as well, but in spring, you get the full green and that is amazing. Now if I could just do something about my allergies…
What's your favorite holiday?
I LOVE Halloween. That's probably due to my love of horror in general but decorating, dressing up and everything else that goes with it is something I always look forward to.
Do you have any pets?
YES! I have 2 dogs, Lucy and Penny. Lucy is a 13 year old Hound and Penny is a 3 year old 'Heinz 57' (aka she's a mutt)
Are you good at cooking?
I make a tremendous Southern Style Chili that my wife requests every winter and I am very good at making making Chorizo and Egg breakfast tacos. So, depending on what it is, absolutely.
Do you prefer movies or TV shows?
Honestly I like them both. I am a tv fiend and a movie nut through and through. Depending on the subject a television series can be great for long form storytelling but a movie is great when you want something grand and impactful. So…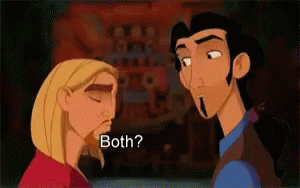 So there you have it…and for my nominations:
I Nominate
The Bookworm Drinketh thebookwormdrinketh.com
Angela at booksandopinions.com
Karandi of 100 Word Anime
Movie Babble https://moviebabble.com/
hanspostcard at slicethelife.com
Jeff at batchandnarrative.com
Dirty Sci-Fi Buddha dirtyscifibuddha.com
My Questions:
If you could have dinner any fictional character who would they be, what would you eat and what would you talk about?
What is your favorite book and why?
If you could choose only one food to eat for the rest of your life, what would it be?
Who is someone you have always wanted to meet, living or dead?
Star Trek or Star Wars?
Who is your favorite band? and why?
What is one movie you could watch over and over without getting tired of it?
Congrats!!!!
If you would like to read some of my reviews I have a weekly series called Key Movies Of My Life that comes out every Thursday and for more retro TV goodness check out the rest of the Retro TV Reviews here.
As always, please feel free to comment below and share your experiences with these episodes as well. If you just happened by, tell me what you think! Don't Forget To Follow me if you like the blog!
Late To The Game 7/24/2021